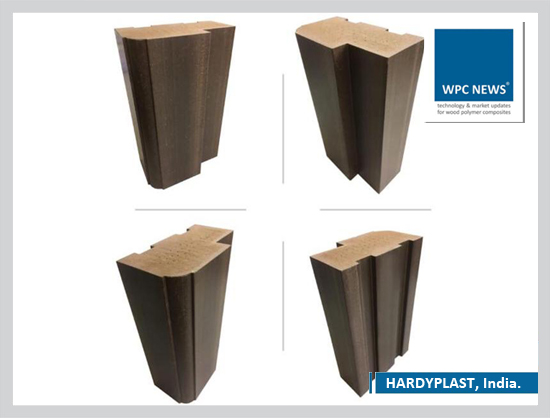 WPC is emerging in the world's infrastructure market as a multi-material. Indian markets have also started using this product in a serious way. WPC is becoming an amazing and indispensable material for difficult problems like termites and damping.
Since 2011, Hardyplast has been promoting WPC products in markets across India and the world. Today, it has established itself as one of the strongest brands in terms of quality and product portfolio. Being the leading brand engaged in construction projects and government projects in the construction industry, we describe WPC frame as a product of great importance. Today, with the implementation of RERA, the importance and requirement of quality of material has increased in the construction industry and institutions are in search of good material.
Hardyplast WPC frame has become one such popular and proven product name. A complete product line is supplied from the company which covers the doorways of the main door, room door, balcony doors and bathroom toilet doors. Frameworks available in standard (400 density) and premium (1000 density) quality are available according to usage. A total range is available with 65/50, 90/50, 100/50, 100/45, 115/45, 125/45, 160/45 sizes.
The most important issue is that the amount of calcium in the frame should be authentic, which can give the right quality to the frame. Apart from this, the correct density of the product and its ability to hold the screw are also issues of importance.
WPC frameworks save a large amount of natural lump, as they are also of solid structure. Siding frames have been made of natural sling cut from trees and WPC frame is also solid structure and very solid like or more solid. Accordingly, 25 WPC frameworks can save an entire tree. In a 13-storey apartment, it takes about 400-1000 frames and according to that, about 80 standing old trees can be saved. WPC can be 100% recycled even above that and that too about 3 times! This means that once made WPC can save 3 times the tree.
With WPC frameworks, WPC doors are becoming an essential part of the construction industry today. Anti-obstruction and termite proof are its greatest scientific benefits and due to all these strong features, the demand for WPC frameworks is increasing rapidly in the construction industry.
Aired by Hardy Smith for information.
For more details you can call to +91-79-40066928 or write on info@wpc-centre.com. Visit www.hardyplast.com.