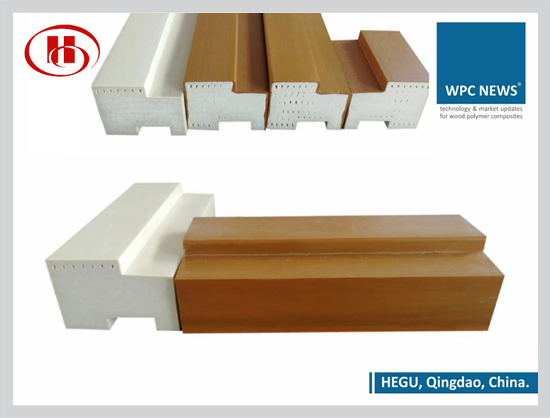 As one of the earliest domestic manufacturer to develop WPC extrusion lines, QINGDAO HEGU WOOD-PLASTIC MACHINERY CO., LTD. is the professional manufacturer of wood-plastic machinery in China. They have a large number of senior experts and technician in WPC extrusion line, Molds, Process formulations and for commercial production. With many years of accumulated rich experience in the area of WPC extrusion line, HEGU can provide all-round services for a turn-key project.
With advantages involve good quality of machine with stable production capacity and good services HEGU's WPC solid and hollow door frame machines are widely accepted by Indian and foreign customers. They claim to have developed a technology for making new WPC Solid door frame products with ASA co-extrusion technology, targeting popular Indian market.
With ASA coating WPC profiles can be made with outer wooden grain layer. This WPC profile can be used outdoor under UV rays also. The ASA material is specially used making color profiles with good weather resistance. Made with co-extrusion technology the outer ASA layer can serve for ready to use surface with hardness and without lamination.
HEGU is ready to provide textures on three sides or even four sides with online embossing process for WPC profiles, which can create a nature wooden skin replica to make it a lucrative-ready to hang product.
For more details Ms Rosy Qin can be contacted on Mobile & Whatsapp: 0086-15965573925 or email: rosy@wpcmachinery.com. Visit www.wpcmachinery.com.