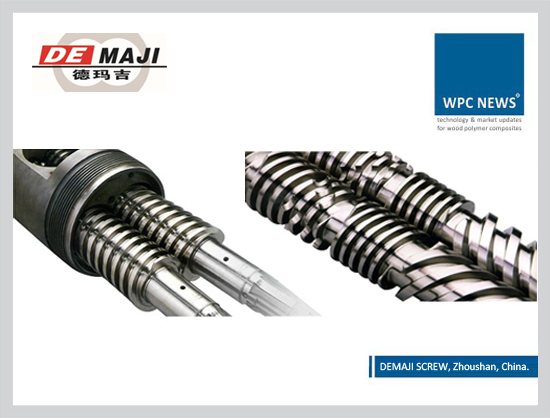 DMJ Zhoushan Industrial Co. Ltd. Popularly known as DEMAJI SCREW was established for PVC/WPC Sheet and Profile extruder screws manufacturing. The owner of the company claims to be an inventor of screw type 55/120 and 55/125 conical models for profile screws. Within 10 years of short span since inception Demaji Screw claims for becoming the largest twin screw barrel manufacture in china. Every month company produces 600 sets twin screw and barrel for Global and Chinese markets.
At Demaji factory all the technologies installed are world class from countries like Germany, Japan and Taiwan. They use Advanced Bimetallic coating alloy from Kennametal USA. Demaji has a laboratory for special testing of Hardness with the equipment from BRUKER, Germany. Demaji targets to make the most wear resistant and long life screw barrels for the global market of plastic extrusion and injection moulding.
Every year Demaji sales almost 2.5 million USD of Screws and Barrels to Indian Market. Major players like Jain irrigation systems are their clients. Demaji Team has a dedicated service team for their major client countries like India.
Demaji makes conical twin Screw-Barrels for PVC, WPC, SPC products in sizes of 51/105, 55/110-120, 65/132, 80/156, 80/173, 92/188, 110/220. Company's product range includes Parallel twin screw barrel, Bimetallic screw and barrels and Bimetallic screw and full SKD barrels.
For more details Ms. Serena can be contacted on Mobile/Whatsapp: 0086-13665802533 or mail to sales1@demajiscrew.com. Visit www.demajiscrew.com.
by WPCNEWS.in, December 31, 2018.