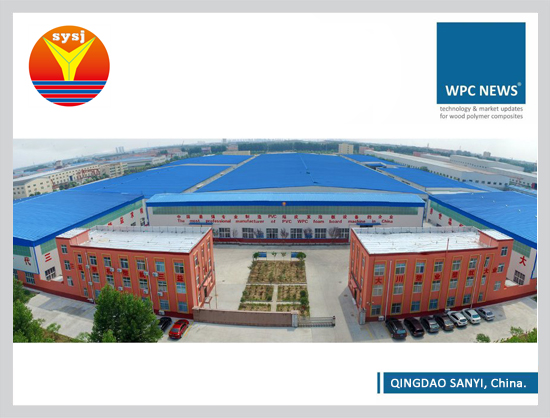 Qingdao Sanyi Plastic Machinery Company Limited from Qingdao, China was established in the year 2006. With a multifaceted set ups for technology, manufacturing, research and development, production and Sales, Sanyi is a known player from China, dedicated to PVC foam sheet lines.
They started manufacturing PVC foam board production line in 2007. Within a short time it bought out Hangzhou KeDi Decoration Co., ltd. PVC foam board belongs to a new satisfied green sheet which can replace wood sheet and Sanyi became a professional manufacturer of PVC foam board machines. Recently company has started making SPC PVC flooring machine lines as well.
Being one of the biggest exporters of Foam board lines from China, Sanyi has exported machines to more than 20 countries including India, Pakistan, Rumania, Iran, Kuwait, Russia, Korea, north Korea and Uganda, etc. Till date it has developed the 13th generation of foam board line and recently finishing 14th generation line. Company demonstrated the 13th generation line during Chinaplas Exhibition in 2015 with a production capacity of 600kg/hr. The capacity of 14th generation line reaches to 800kg/hr, as per SANYI.
Qingdao Sanyi joined the China Plastic Processing Industry Association (CPPIA) and PVC Foam Products Committee of CPPIA in 2009. Company became the Vice-Chairman of the PVC foam products Committee from CPPIA in 2014. Sanyi had undertaken the annual convention of PVC FOAM PRODUCTS COMMITTEE from CPPIA in 2014 and 2015. At the same time in 2014 they joined Newplas Exhibition from CPPIA as the most important exhibitor. They joined the China Formwork and Scaffold Association in 2013, and became the Vice-Secretary-General of CFASA in 2014.
Company joined the China plastic formwork development union and became the Vice-Secretary-General. The first working meeting of China plastic formwork development union was convened by Qingdao Sanyi. The General Manager (Owner) of the company won 'Special contribution award' and 'PVC formwork template production line recommendation award' in November 2014.
Company signed the Strategic Partnership Agreement with SIEMENS in December 2014. Sanyi won the 'Chinese Advanced Person of Plastic Replace Wood', 'Chinese model enterprise of Plastic Replace Wood' and 'Chinese most influential enterprise in plastic sheet industry' from Chinese wood saving center in the WOOD SAVING MEETING in May, 2015. Company became instrumental in organizing a Recycle PVC communication meeting between China and Japan.
For more details Mr. Steven Xu can be contacted on Mobile/Whatsapp 0086-13606300391 or WeChat: xucongkai0521 and Email: steven@sanyisj.com. Visit www.sanyisj.com.