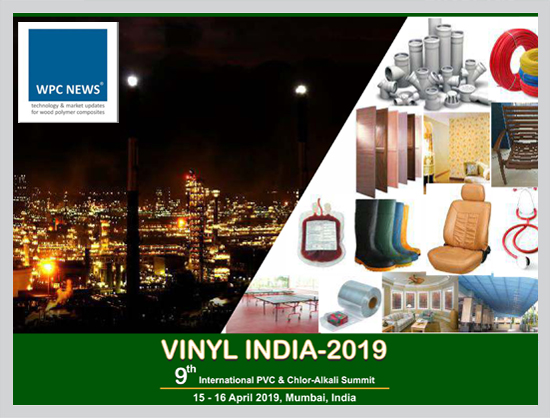 ElitePlus & CPMA announces the 9th Vinyl India summit in Mumbai to be held on 15-16 April, 2019. The 8th edition which was held on 12 -13 April, 2018 in Mumbai, had participation of 332 companies from over 26 countries, with a total attendee count of 770.
India's PVC consumption has crossed over 3 Million tonnes with imports exceeding 1.6 Million tonnes. The industry is witnessing double digit growth across all vehicles namely; Agriculture, Infrastructure and pipes, profiles calendaring both rigid and flexible, wires and cables.
The main highlight for the WPC Industry is the Panel Discussion "WOOD PVC – Is it catching up?" under Business Session VIII: Profiles on the Day 2, 16th April.
Eminent Panellists
Hardik Panchal, CEO & Promoter, HARDY SMITH
Ajay Karmarkar, Director Technical, Konkan Speciality Polyproducts Pvt. Ltd (KONSPEC)
Deepanker Garg, Director, Alstone India
Dr. Anomitra Chakravarty, Managing Director, KPS Consultants & Impex Pvt. Ltd.
Prakash Bhargava, Cooldeck Industries Private Limited
The two day summit attracts an international target audience including decision makers and the owners under one roof. The participations include main raw material producers of PVC, Downstream processors, Technology licensors, Machinery suppliers, Additives, Plasticizers & Stabilizers suppliers, Channel partners, Traders & intenders, Consultants, Institutions and Industry associations from across the world.
Summit highlights

An integrated Chlor Alkali – Vinyl Global Summit
Opportunity to interact and network with the movers and shakers in the industry
An arsenal of global speakers and visionary industry leaders
Innovative and Disruptive technologies acting as catalysts for change and modernisation
Ban on short life PVC – withering the storm and rising against all odds
This power packed program is spread over two days and covers over 60 speaker presentations, interactive Q & A, Panel discussions, Multiple networking opportunities, Partner exhibition booths, Industry achievement awards, Networking cocktails and a Gala Dinner.
For the event registration:
Option 1: Online registration
http://www.eliteplus.co.in/qregistration/register.php
Option 2: Download registration form & email to diya@eliteplus.co.in.
http://epbs.co.in/wp/wp-content/uploads/2018/12/vinyl-registration_form_17.2.18.docx
Call ElitePlus: +91 96196 34690/+91-22-26000555/56 to help register you.