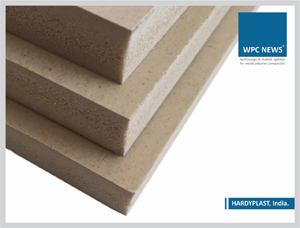 HARDYPLAST brings 'HYPER WPC Boards in higher densities with 40% average wood fibre content. It is a real WPC panels for best screw holding in modular furniture making. India has accepted WPC Panels in a large format and being the market leader brand HARDYPLAST has launched this original product with their years of expertise. WPC Panels are made on European extrusion technology.
WPC Panels are made with wood fibres of Pine wood, those are visible on the surface clearly. It is the correct product from the company and first time in India with 40% wood contents. It has a Graceful surface look for direct applications in wardrobes, modular kitchens, bathroom vanities, storage units and many more applications. Importantly, it is made with 100% virgin polymer and clean fibres of Pine wood. It gives at par screw holding than low quality white PVC Foam boards available in the market.
Modular furniture maker companies are invited to use this highly technical product from an Indian Co-developer. Company has already exported material to gulf for an Oil company in 3 layer format. Now WPC Panels are specially developed for furniture makers in single layer format. HYPER WPC panels are best suiting with company's PVC Laminates for classic decorative surfaces. Overall it is a termite proof and water proof structure for any applications for the fastest developing colonies of the countries.
It is the best WPC from India as an Export quality material from HARDYPLAST.
For more details contact +91-846 005 2427. Email on info@wpc-centre.com. Log on to www.hardyplast.com.