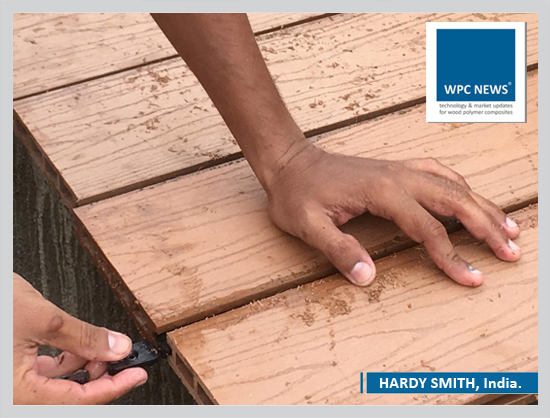 Today, as a true application leader country in 'World WPC markets', India is sincerely marching ahead with a lot of new investments.
WPC is becoming synonymous to the wood and plywood. At the same time it's product awareness is also increasing rapidly. Basic applications like bathroom vanity and walk-in-wardrobe are naturally getting acceptance because of waterproof nature of WPC. Apart of this, India's experienced WPC companies are making WPC boards with higher wood percentage (around 40%) under the name of Hyper WPC. This product is being massively marketed for the modular furniture market e.g. modular kitchens, wardrobes, beds etc.
A leader company from India has entered into total WPC furniture in modular formats, taking the subject to the next level. WPC is becoming popular and technically accepted because of heavy threats of termite and moisture in homes. It is a known fact that Indian homes are cleaning homes with mopping and water is freely being used. Now this is a cultural practice and cannot be changed over the night. Thus it is becoming a positive factor for the strong push of WPC boards in India. Termite is another unbeatable phenomenon which is appearing every where, even on the 14th floor of a multi-storey apartment, may be in Kolkata or in Ahmedabad. There are several cases of furniture replacement come to the WPC furniture manufacturer. India is observing a very fast infrastructure development right now and it is happening on farm lands. Outskirts of cities like Ahmedabad, Mumbai, Bangalore and Rajkot are being flooded with weakened homes for middle class. Construction companies in this sector are accepting WPC much securely and confidently. Such formats need complete modular furniture which can be sustained for years. Major concern is termite and maintenance here and WPC fits 100%. Such projects use WPC in interior and exterior as well.
Interiors are made with WPC boards for furniture as discussed, added with TV cabinets, storages, Wall Panels, Ceiling Panels bathroom furniture, Stairs railings, WPC Doors, Door frames etc. Exteriors are used with WPC wall cladding, WPC Deckfloors, WPC Deck Tiles, WPC pergolas, WPC Gazebos, WPC balcony fencing, WPC decorative grills, WPC benches, walkways and so on.
A new world of WPC is almost created amongst the wooden markets and people are switching over to WPC. Architect, Designers, Retail Furniture makers, Landscapers, Interior Designers, Construction companies have started demanding and utilising WPC materials massively now. Government departments are also aggressively accepting WPC Doors, Door frames in tenders. Boatbuilders are also fixing WPC plates and WPC decks now. A small carpenter also demands for a WPC sheet for his minimum requirement of furniture back that is placed adjacent to the sensitive wall. He worries about seepage possibility and uses WPC sheet, may it be a 6 mm one! Schools, Hospitals, Hotels are feeling more comfortable with WPC materials because of termite, water and maintenance issues.
Here, wood scarcity we are not discussing yet which is very major factor for the Indian wood and plywood industry. This is becoming serious day by day and sustainable replacement materials are in demand. WPC is the one of them which has got its placement rightly and most aggressively till date. Hardy Smith & WPC NEWS is forecasting huge demand scenario for all WPC products in the country during next 7 years. India will need more professional and strong players.
Use WPC. Save trees. Save earth.