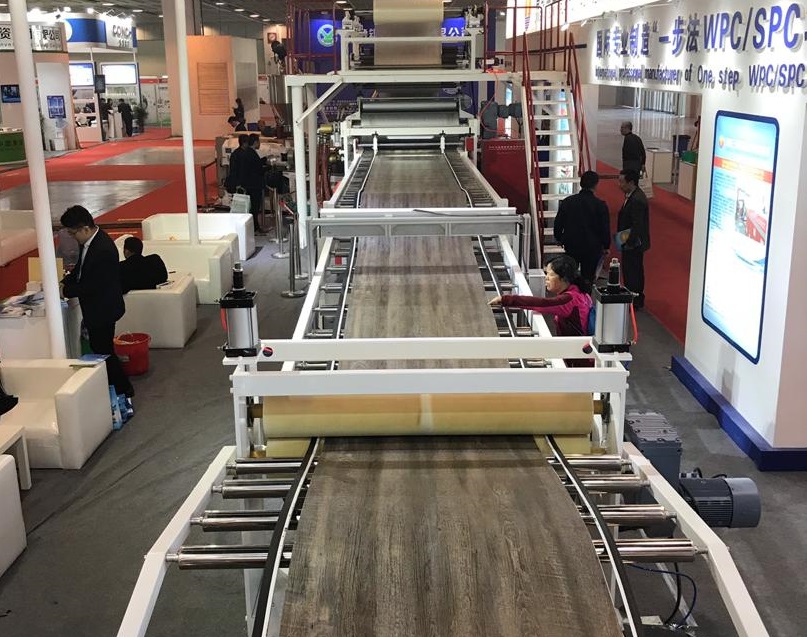 China's leading supplier of PVC Sheet extruder lines QINGDAO SANYI has developed and introduced parallel twin screw lines for manufacturing of Stone Polymer Composites, popularly known as SPC. After a long spell of making and supplying to many lines to India for PVC foam sheet and PVC laminate manufacturing, now SANYI has added one more prospective technology in it's portfolio.
QINDAO SANYI has been delivering quality machinery to the global clients, especially focusing on PVC WPC foam sheet products. Later they supplied PVC Laminate manufacturing lines also and now company has started delivering lines for SPC manufacturing. This is a Parallel twin screw machine developed in closed cooperation with leading Screw manufacturers from china. Gearbox for the machine is procured from the world known German player Henschel Gear & Taiwan based Sun Lung Gear box company. This cooperation makes the overall machine and technology more assured and efficient for the stable production of SPC Flooring.
SPC Floor is becoming popular in Western countries like USA, Canada and Europe and partly it is taking up in India as well. Investment in the machine is moderately higher than regular PVC WPC Foam sheet line because of tooling requirement in the case.
Company has designed a range of different capacity machines as follows for SPC Floors:
114 (First Generation) – 800 Kgs per hour
114 (Second Generation) – 1000 Kgs per hour
114 (Third Generation) – 1250 Kgs per hour
114 (Fourth Generation) – 1500 Kgs per hour
135 (First Generation) – 2200 Kgs per hour
135 (Second Generation) – 2700 Kgs per hour
1X5 (First Generation) – 3300 Kgs per hour
1X0 (First Generation) – 4150 Kgs per hour
Maximum designed capacity till date is 4150 Kgs per hour and it can be termed as one most efficient machine for investment in SPC Flooring manufacturing.
For more details Mr. Steven Xu can be contacted on Mobile/Whatsapp 0086-13606300391 or WeChat: xucongkai0521 and Email: steven@sanyisj.com. Visit www.sanyisj.com.