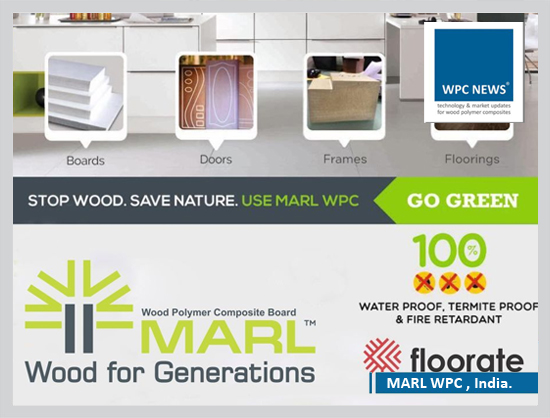 Manakamna Composites Private Limited (MARL) is India's one of the known WPC product manufacturing brand belongs to eastern part of the country. The brand was established in the year 2013 at Kolkata, India with an aim to develop products those are environment friendly. The company took leadership in introducing WPC products very first time in Eastern India. MARL WPC claims to be an extensively focused company for providing quality products and services to its customers at an affordable cost.
Apart from this company,stands well equipped and is spread over more than 2 acres campus. They use latest technology machines sourced from different parts of the world. The Company is proud to announce that company has adopted 5S Workplace Organizing Management System. MARL Company and products are certified from ISO 9001:20015, ISO 22000:2005, ISO 14001:2015, IPIRTI, and IGBC & UGBC.
They believe strongly in brand establishment for WPC products and their management team says "A brand makes you more responsible towards the quality of product being delivered to the market & the brand can only become acceptable if the people are aware of the products, applications and technicalities." The organization is continuously working hard on marketing and spreading awareness of WPC products. Their motive behind this is to make people aware of quality product.
Company has a portfolio of products like WPC BOARD, WPC DOOR & WPC DOOR FRAMES. They have introduced SPC/WPC flooring under the brand name of 'FLOORATE'.
Being one of the leaders from India, MARL WPC has done a good job in spreading awareness in the eastern region. They are supplying qualitative products with a vision to create a huge market across the nation.
For more details please call Mr. Arpit Agarwal: +919681246810 or Mr. Rohit Goyal: +919832504048. Write on info@marlwpc.com. Visit www.marlwpc.com and www.floorate.in.