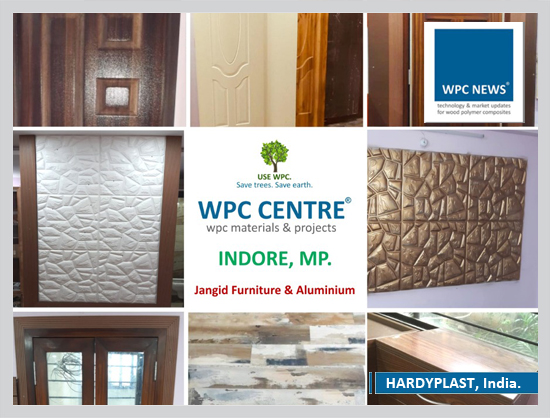 It comes as a great news that world's first franchise network is taking shape from India for wood polymer composite products. There are more than a 100 'WPC CENTRE' are taking shape all over India and Gulf under the leadership of HARDY SMITH, a known name in this sector. It will display and supply 'HARDYPLAST' brand of WPC products.
WPC CENTRE is an exclusive franchise setup showcasing the largest range of WPC product and applications anywhere in the world. Interior and exterior HARDYPLAST WPC products can be visually and physically experienced at this place. Architects, Interior Designers, Landscapers, Dealers, Builders, Construction companies, contractors, carpenters and end users can visit WPC CENTREs for their project needs. These are the places where live demonstration of products are established for making people aware about it's appearance, fixing methods, making systems, quality, surface finishes, decorative properties, operational guidance and installation techniques.
Being a sustainable Eco-friendly product WPC is an important substitute of natural wood and allied wood panels. WPC CENTRE explains about its advantages over wood like it's moisture, water, fire, termite and other mechanical properties to the end user. These are the important stations for architects for understanding WPC product variations in their innovative products. They can bring their clients here for awareness and explanations.
Company is planning more than 100 centres in India and Gulf and talks are on with many prominent interested partners. Company will set up one centre per City with an exclusive partner only. This is a good step towards speeding up the awareness for making more and more people aware about WPC products and it's applications in real form. Company has recently opened it's first WPC CENTRE at INDORE, Madhya Pradesh in India. For more details you can visit WPC CENTRE – INDORE. Or fix an appointment with HO Ahmedabad by a call on +91.79.40066928 or email to info@wpc-centre.com.