Technology Partner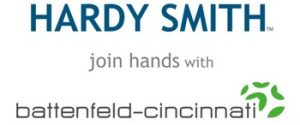 Battenfeld-cincinnati is a market leader in extrusion technology that develops, designs, manufactures and distributes innovative, high quality extruders and extrusion equipment. As a global player, battenfeld-cincinnati has 5 production sites in Austria, Germany, China and the USA and an extensive worldwide sales and service network. The company is organized in three divisions (Infrastructure, Construction and Packing). The Construction division provides solutions for window, construction and technical profiles, PVC sheet and wood plastic composites. Battenfeld-cincinnati has been serving the WPC industry for more than 15 years and placed more than 250 tailor-made WPC lines worldwide.
Hardy Smith, the only dedicated Indian organization into wood plastic composite sector provides turnkey project solutions including technology, manpower, infrastructure and brand.
As a technology player, we are built up by polymer technocrats having hands on experience in wood and polymer sectors. In association with BC extrusion we supports Indian industry for different raw material solutions for making WPC products.
Battenfeld-cincinnati Austria GmbH
Laxenburger Str.246, 1230 Vienna, Austria
Contact : Matthias Daniel (Director Technology-Construction Division)
Tel : +43(1)61006-467 Fax : +43(1)61006-55467
Email : Daniel.M@battenfeld-cincinnati.com
Website : www.battenfeld-cincinnati.com
Hardy Smith
G-1, Vikram Plaza, below HDFC bank,
Gota, Ahmedabad – 382481, India,
Contact : Hardik Panchal
Tel : +91(79)6545 2427, Mo.: +91-98790 894944
Email : info@hardysmith.org
Website : www.hardysmith.org