Founded in 1997 with the aim of designing and producing ambulances and special vehicles, Orion s.r.l. is constantly engaged in the search for innovative, functional solutions, aimed at improving the standards of safety and quality of its vehicles. To date, Orion has developed and marketed in Italy and abroad about 2,000 special vehicles including ambulances, medical cars, police cars, fire-fighting vehicles, off-road vehicles and Quads. Supplied more than 3000 square metres, the Orion factory serves about 200 vehicles a year. Orion is ISO 9001 certified and has authorization from the Ministry of Transport for the mass production of special vehicles.
Aurera group is branch of the Orion Company that has been producing ambulances for 20 years and has been producing the only Self – Sanitating ambulances in the world for 8 years. The Aurea Group srl deals with proposing the same technology as the Ambulances to be applied to materials such as WPC, PVC, Resin Floors, Fiberglass, Polycarbonate, Polyethylene, and Polyester.
The Pure-Health system consists of coverings and floorings made of PVC, resin and fiberglass. A molecule, Titanium Dioxide, has been inserted into these materials and, thanks to the action of a light, it is able to eliminate over 99% of the viruses, bacteria and mould present in the environment in which it is used. A molecule, nanostructured titanium dioxide, has been inserted into Pure-health PVc, resin and fibreglass. This causes the material to become a photocatalytic surface. This process is patented (patent no. PVc PcT/iT2012/000219 – brevetto resina e vetroresina PcT/iB2011/0579).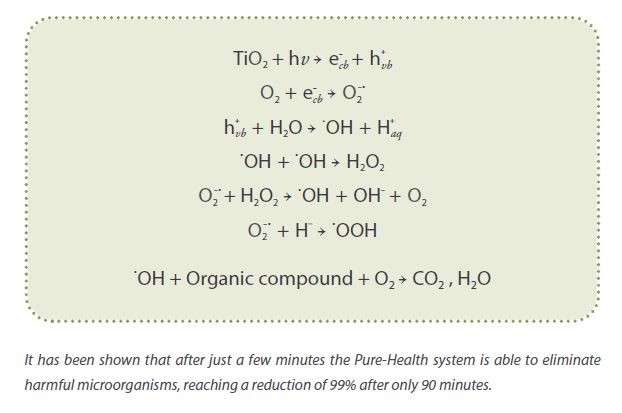 They can vaccinate the materials (incorporate the bactericide) in the materials that are activated like a Tree with Chlorophyll Photosynthesis and eliminates Voc, Virus, bacteria on the surface and helps to eliminate pollution. In the case of the WPC, which is already a Green material, when we vaccinate it becomes Green in an active way because it works with Sunlight.
For more details you can connect with Mr Fabrizio Mariani on mariani.building@gmail.com. Visit www.purehealth.it.