About the project-
Shivrajpur Beach is a Blue Flag beach situated 12 kilometres from Dwarka a known Krishna pilgrimage in Gujarat, India. Government of Gujarat is developing this beach with well-planned infrastructure shaking hands with leading architect firm from Gujarat. This beach is going to relate to a coastal highway of Gujarat. Gujarat Tourism as a principal entity is developing this beach with sports and luxurious amenities. As a part of that, an entire patch is established with container domes. Those will be used for multiple tourist applications across the beach. All the containers are being fixed with WPC wall cladding over facades. It is an exterior application exactly over a sea front and WPC fits best as the wood replacement material.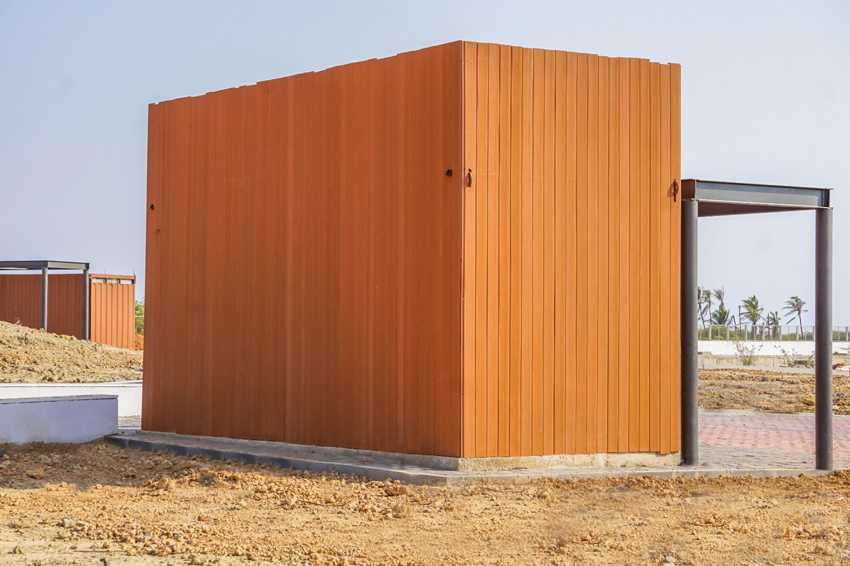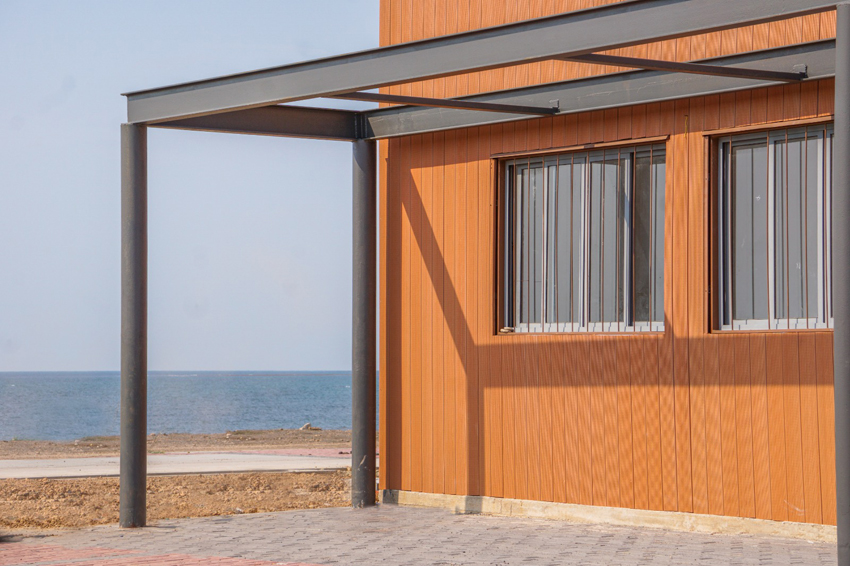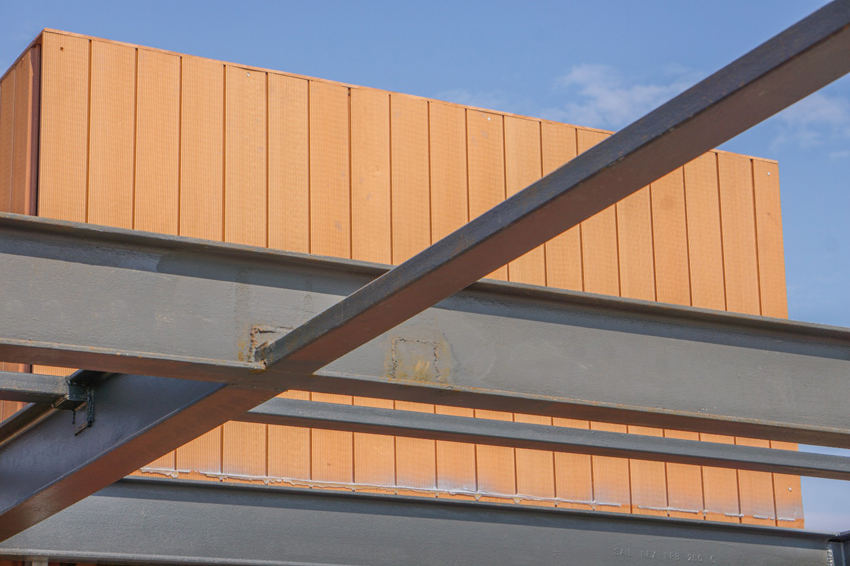 Why WPC is selected against wood –
Wood Polymer Composite, popularly known as WPC in the global market is a perfect substitute of natural wood. Conventionally and historically natural wood has been in use as a premium and luxurious material since centuries. Wood is in use with applications of primers, varnishes, veneers and paints for the enhanced beauty and weather protection. Being a natural material, it is sensitive to weather for its use in moisture, termite, UV conditions. Without protection, wood cannot sustain in outdoor applications. It needs periodic maintenance and regular safety checks as well.
WPC is a composite made with polymer and natural fibres (wood waste, agriculture residues), thus carrying mutual properties of both the materials. One is a man-made material and another is natural material. Both have different polarities to work with, but polymer technology and advance material technologies has made is successfully possible to bind them together for form a uniform composition. This composition creates a material that can withstand moisture, termite and UV effects, far better than the wood.
WPC is made with typical wooden colours and shades; thus, it is easy to select against woods. WPC can be made with surface with different textures and finishes to give you a typical natural wooden feel an aesthetic touch. WPC can be manufactured as per the architect or landscaper's length, colour and surface finish requirements.
WPC can be made with single extrusion and co-extrusion surfaces as per the weather requirements. WPC can be easily fixed or cladded on vertical and horizontal surfaces with its interlocking designs. WPC doesn't require any sensitive care, like wooden materials. It is a rough and tough material for external use. It doesn't require any surface protection treatments like wood.
Challenges for WPC, if any –
As such there are no drawbacks for it's use in facades. Application wise also it is almost similar vide fixing mechanisms and joineries. It can be use for vertical facades and horizontal ceilings as well for external use.
There are no major challenges for WPC, if we compare WPC apple to apple with natural wood. Yes, it can be colour fed with certain percentages between 10-12% at times while use in exterior facades. But it is like other materials those are withstanding against temperature delta from 6 degree to 48 degree. It is like the materials those are facing heat and dust round the clock. It is like the materials those are facing drastic moist condition to the extreme temperature condition, just in a day. But it stands and fits best against natural wood applications, anywhere.
WPC is a material made with 55-60% nature fibers (wood or agriculture residues) and pigmentation is happened during the mechanical process to polymer and natural fiber both. But post sanding process surface gets opened with natural fibers and those comes into effect of weather, just like a polished wood comes into. It results into colour fade at long, but moderately. It is 90% far better and safe against wood for façade use.
Project Location: Shivrajpur Beach, Gujarat.
Project Developer: Gujarat Tourism, Government of Gujarat
WPC supplier: HARDYPLAST WPC, India.